November 15, 2020 update:
All Good Things…
"Everything dies, baby, that's a fact, but maybe everything that dies someday comes back." – Bruce Springsteen
"I'm glad all you armchair golf course critics are going to try to do this.   Just wait until you see how these things work in the real world." – Golf Course Architect and Mentor Ron Prichard on December 1, 2007.
It is with some mixed emotions that we would like to announce the impending closure of this website where we have updated you on the progress of the efforts to restore Cobb's Creek Golf Course for most of the past decade.
We leave delighted to know that the spark we started back in the fall of 2007 with Mike Cirba's unearthing of vintage aerial photographs of the golf course (that led to 63-pages of subsequent collaborative discovery and passionate discussion on a golf course architecture website) and Joe Bausch's subsequent tireless research that culminated into what is now a 400-page history book eventually achieved our goal to interest others in what many believed was an impossible dream.
https://www.golfclubatlas.com/forum/index.php/topic,31872.0.html
This soon led to a meeting with Philadelphia City Officials, and those of us in attendance were encouraged that we weren't summarily tossed out, which led to a near full-page Philadelphia Inquirer article that helped spread the word.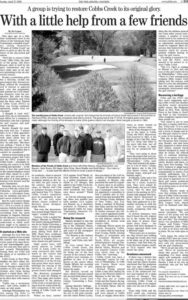 Our early outreach to golf course architects Gil Hanse and Jim Wagner (www.hansegolfdesign.com) and creek restoration specialist Mark Gutshall (www.landstudies.com) lent professional credence to the project and we are very thankful and grateful that they are all still actively on the restoration team all these years later.  Additionally, our collaborative efforts over the years with local visionaries like unflappable, persistent Chris Lange, the extraordinarily generous, patient Maguire Foundation (https://maguirefoundation.org/), and the indefatigable, energetic John Burnes have been wonderfully rewarding.
However, with the wonderful realization that our collective shared vision has since spawned a formalized non-profit organization, the "Cobb's Creek Restoration and Community Foundation" (www.cobbscreek.org), we believe the time is right to consolidate our efforts around the philanthropic activities and project communications from that organization.   While not a direct part of that Foundation, we've been asked to provide historical context, as well as associated digital and print content to help support their efforts in a way that continues to celebrate the wonderful history of Cobb's Creek while providing a guidepost to drive future efforts.   We look forward to an active and ongoing collaboration to achieve our mutual goals.
Finally, we'd like to thank all of the folks who have contacted us here and in person over this journey.   Your enthusiastic support, your sentimental and inspiring stories, your stubborn encouragement when times seemed hopeless all fueled our energies and efforts more than you'll ever know and for that we are eternally grateful.   We look forward to meeting all of you again on a restored Cobb's Creek Golf Course in the not too distant future.   Stay safe, be well, and thank you for everything.